Arches National Park in Utah
A stop off at Vail, Colorado
We left Denver and stopped for morning coffee in Vail, Colorado which is a lovely alpine ski resort. It was very quiet whilst we were there since ski season hadn't started. The main area of the town is pedestrianised and Gore Creek drive is lined with restaurants and ski wear shops. A nice feature of Vail is that it is has a village-wide wifi network.
Arriving at Arches National Park
We then continued onto the Arches National Park, which lies to the north of Moab in Utah and is adjacent to the Colorado River. Arches National Park has over 2000 natural sandstone arches, within a 76,359-acre area.  The definition of an Arch is a hole in a rock which is at least three-foot-long, regardless of its height. I was intrigued to know how these arches were formed.
The Natural Science
300 million years ago, this area was the sea which over time evaporated, leaving thousands of feet of the salt bed. Slowly over many hundreds of years, the salt was covered with sand and other sediments which compressed and compacted into sedimentary rock. The weight of the rock caused the salt layer to move and where there were cracks or cavities in the rock, the salt moved upwards to form domes.
When the salt domes collapsed, the rocks on each side would crack. Wind and water erosion formed fins of sandstone and during a gradual process of continual freezing and thawing, mother nature created the rock arches we see today.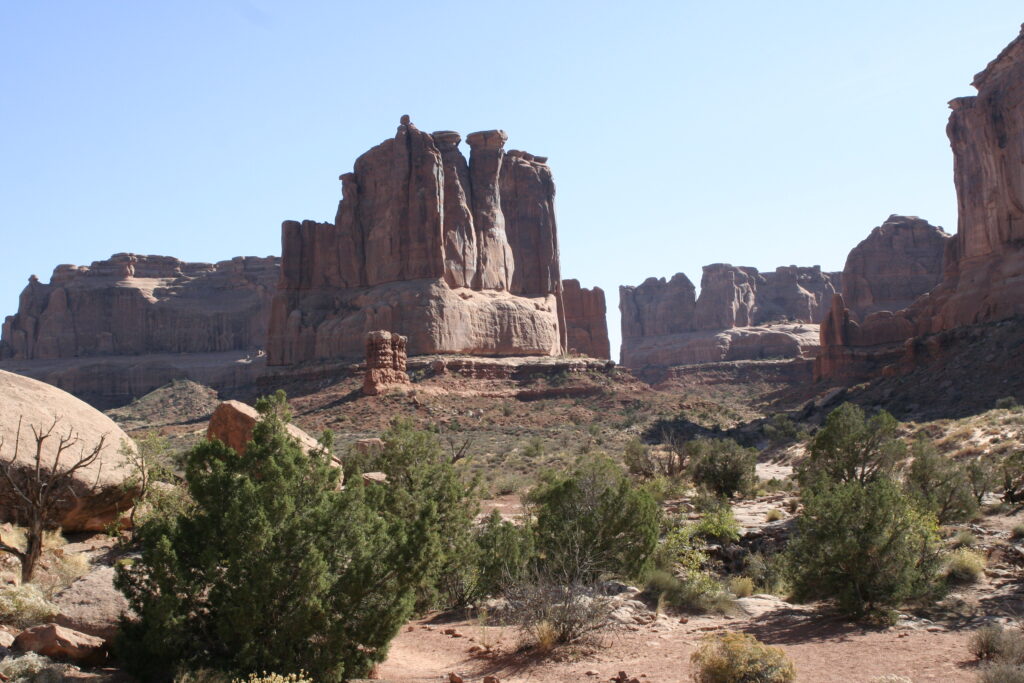 Courthouse Towers
The North Window
Impermanent structures
It is worth noting that this process still continues and that the arches are not
permanent
, with one of the most famous arches "Wall Arch", collapsing in 2008.
Name an Arch
If you visit Arches National Park, keep a lookout for new arches because if you find a new one, you will get to name it! Sadly I didn't find a new arch, but maybe next time!
Please take a look at my YouTube video for my photos from my visit.