The Red Canyon is located just off the Scenic Byway 12, close to Bryce Canyon and the Zion National Park.  Sadly many people are in too much of a hurry to arrive at Bryce Canyon, to take in this wonderful place. The Canyon is part of the Dixie National forest, but it isn't what you might expect of a national forest. Instead, as you enter Red Canyon you will be awestruck by the red soil, the red Canyon Hoodoos and the contrasting green pine trees. It is free to visit the Red Canyon and it is said that this area is the most photographed place in Utah; it is easy to see why!
What is a Hoodoo ?
A hoodoo is a column of weathered rock, of which the Red Canyon has many spectacular red sandstone spires and formations. These hoodoos have been created during millions of years of freezing, thawing and refreezing.
How did the formations get here?
The Red Canyon is part of the Claron Formation which is the same formation that created Bryce Canyon. Sixty million years ago sedimentary deposits of limestone, sandstone, siltsone and other debris settled on what was once a lake. Uplifting, which was the process of freezing and thawing created the huge structures, weathering then eventually created the hoodoos we see today,
Why is the soil red?
The soil colour comes from iron and manganese present in the prehistoric sediment.
Red Canyon Visitor Centre
Visit the Red Canyon visitor centre to learn about the canyon, as well as to pick up free information about exciting trails you can do within the area. There are a variety of trails available for whatever your interest, be it hiking, biking, 4WD, AWD or horse riding. For the people who enjoy out door living, there is a campsite close by.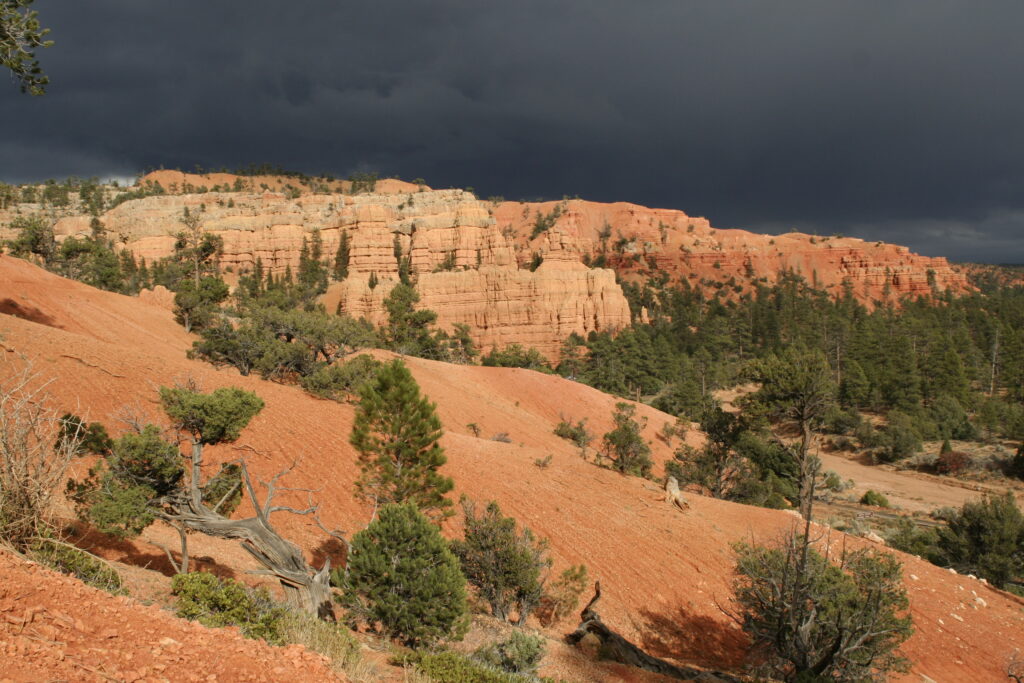 On the day I visited Red Canyon, some bad weather came in. This provided this dramatic back drop of the black sky against the vibrant red of the spectacular sandstone spires and formations of the canyon.