Another day in Florida and another hike!!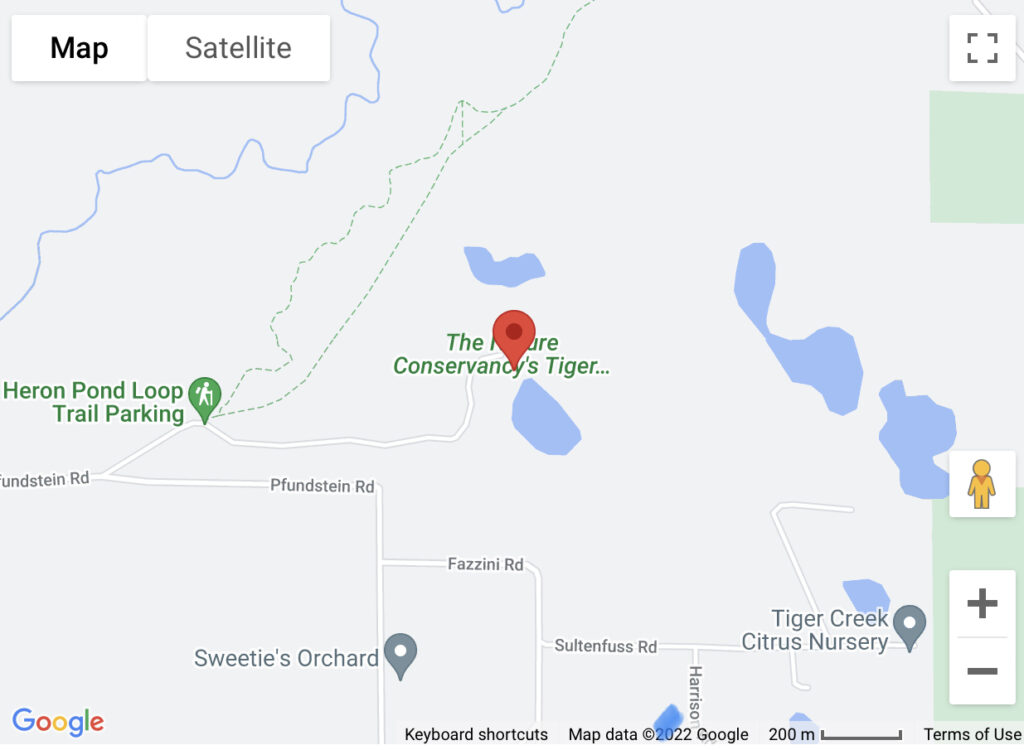 This time we headed over to Lake Wales, where we were looking forward to visiting the Tiger Creek Preserve.
The drive to the preserve is along the picturesque Ridge Scenic Highway, which is a 38 miles stretch of road on the Lake Wales Ridge. Once off the Scenic Highway, there is a further five miles drive on a bouncy orange sandy road with orange groves to either side. Mile upon mile of trees laden with ripe oranges waiting to be picked and made into Florida orange juice…..yummy!
On arrival at the remote site of Tiger Creek Preserve, there is parking for approx 4 cars. It was at this point I realised we appeared to be miles from anyway and my surrounds were so peaceful. This 5000 acre preserve is managed by The Nature Conservancy, who have protected this area since 1971. The Natural Conservancy is a worldwide private conservation organisation, managing and protect more than 119 million acres worldwide.
Maps are located at the head of the trails, with most of the trails starting from Pfundstein. This trail is the gateway to Patrick Creek Loop, Heron Pond Loop or a hiker can go onto the Highlands Loop which extends to the Creek Bluffs Loop. If you decide to take the furthest trail, you will have hiked around 9.1 miles by the time you return to the parking lot.
Ancient Islands
Tiger Creek Preserve is located on Florida's oldest and highest land mass which is called the Lake Wales Ridge. This is a sand ridge referred to as Florida's Ancient Islands, measuring 150 miles through central Florida and being clearly visible from space. This area has the highest concentration of endangered and threatened plants in the USA, with only 10% of the original native habit remaining.
As we walked along the trial, it was apparent how different the landscape is here from previous places we have hiked. There are so many different species of plants and shrubs, even though our visit was during winter. I would imagine in the summer season there would be even more to see.
This is a nice spot along Pfundstein trail, where I sat and soaked up the beauty and atmosphere. I spotted a painted rock on top of the post next to the bench. Geocaching is a popular activity in Florida, where people exchange painted stones at given geographical locations.
As I walk around Tiger Creek, I noticed a number of burnt trees or stumps like the one below. These can be either from lightning strikes, for which Florida has the most lightning strikes in the whole of the USA or due to fire management. Fire management is a controlled burn of a selected area to maintain an ecological balance of species and to improve natural habitat.
If you enjoy the peace of the outdoors and love to hike, I would recommend visiting Tiger Creek Reserve. It makes a great day out, with lots of beautiful and variant landscape to take in. Remember to bring along a picnic and plenty of water because it can get very hot out there! Bug spraying up is a definite must also!
Pin for later :